Posted by Dr. Guide on Sep 15, 2012
Given below is a full list of all the recipes in Minecraft for iOS and Android (and PC / Console). From Arrows all the way to the different Wool colors, every recipe shows the exact ingredients needed to make your final desired item.
If you want to find a specific recipe quickly, press CTRL-F (find) and enter in the item you want.
Arrows

Axe

Bed

Blaze Powder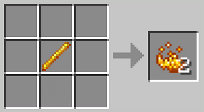 Boat

Bone Meal

Book

Bookshelf

Boots

Bow

Bowls

Bread

Brewing Stand

Brick

Bucket

Button

Cake

Cauldron

Chest

Chestplate

ClayBlock

Clock

Compass

Cookie

CraftingTable

DetectorRail

Dispenser

Door

Dye – Cyan

Dye – Dandelion Yellow

Dye – Gray

Dye – Light Blue

Dye – Light Gray

Dye – Lime

Dye – Magenta

Dye – Orange

DyeP – ink

Dye – Purple

Dye – Rose Red

Enchantment Table

Eye of Ender

Fence Gate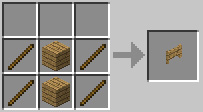 Fences

Fishing Rod

Flint and Steel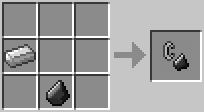 Furnace

Glass Pane

Glowstone

Golden Apple

Gold Ingot

Helmets

Hoes

IronBars

Jack o Lantern

Jukebox

Ladder

Leggings

Lever

Magma Cream

Map

Minecart

Minecart with Chest

Minecartwith Furnace

Mushroom Stew

Note Block

Painting

Paper

Pickaxe

Piston

Pressure Plate

Rails

Redstone Repeater

RedstoneTorch

Sandstone

Shears

Shovel

Sign

SnowBlock

Stairs

Sticks

Sticky Piston

Stone Brick

Stone Slabs

Sugar

Sword

TNT

Torches

Trapdoors

Wooden Planks

Wood Slabs

Wool

Wool – Black

Wool – Blue

Wool – Brown

Wool – Cyan

Wool – Gray

Wool – Green

Wool – Light Blue

Wool – Light Gray

Wool – Magenta

Wool – Orange

Wool – Pink

Wool – Purple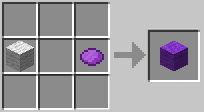 Wool – Red

Wool – Yellow